BUILD STRONGER. LAST LONGER
Our chef tall hats are some of the most popular items in our store, and for good reason. They're made from top-quality materials and designed to keep you cool and comfortable even during the busiest shifts. We offer a variety of colors and styles to choose from, so you can find the perfect hat to match your uniform and personal style.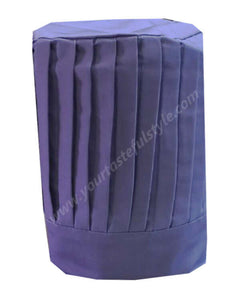 Fabric high-quality chef pleated tall hat - Purple Color
Shop more.....
Tasteful Style Attire company is selling Chef Coats, sushi chef coats, chef tall hats, hibachi chef hat sets, polo shirts, dinner server shirts, chef hats, headbands, chef wraps, garrison hats, cooking shirts, hibachi chef uniform, aprons, sushi rice cooking net, chef scarf and chef pants.