BUILD STRONGER. LAST LONGER
Our Chef Tall Hats are made with the highest quality materials to ensure that they last a long time and designed to keep comfortable for kitchen chefs.  They are easy to clean and maintain, making them a great investment for any chef. Choose from a variety of colors to match your uniform or personal style. Our Chef Tall Hats are perfect for any kitchen and any chef.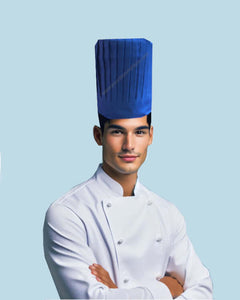 High Quality Pleated Chef Tall Hat - Blue Color
Shop more.....
Tasteful Style Attire specialize in providing high-quality uniforms for chefs and kitchen staff. Our product line includes Chef tall hats, Sushi chef uniforms, Hibachi chef uniforms, Kitchen Aprons, and Classic Chef coats. We offer a wide variety of colors and styles to choose from, so you can find the perfect uniform to match your restaurant's decor and your personal style.